When a student can't follow along in class, or can't access daily instruction, they become disengaged. They may stop coming to class, or worse, drop out of school altogether. Engagement is a key factor in maintaining student retention.
The ability to access text books and tests is a step. What about daily interactions in the classroom? Do students know how to quickly turn a printed assignment into digital text, or how to access content in an infographic? When students have access to all content, not just bits and pieces, they can actively participate in learning. They are engaged.
In today's classroom, access is everything students consume to learn. The ability to transform any content into accessible learning is an important component for helping student with learning differences prepare for college and a career.
Discover three ways to access everything: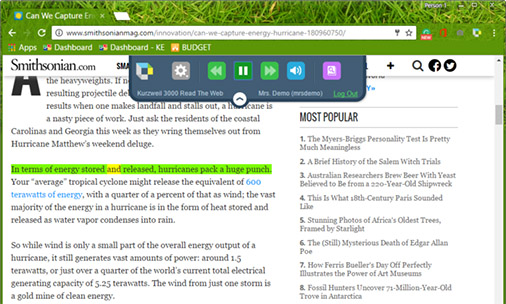 Access to Web Content
Google docs, web pages, and content that is generated online are "web content." The new Kurzweil 3000 Read the Web (RTW) Google Chrome Extension is best for accessing web content. When you've found a great article online and want to leverage it for writing, use virtual print to convert the page into a KESI file and add it to your online library—then highlight, extract, and start writing using your outline.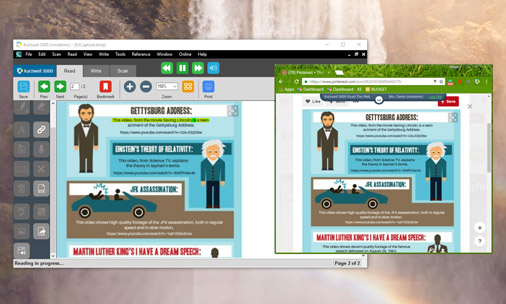 Reading Images and Locked Text
When you try to select a word to read and you can't, it's an image. PDFs that are locked, and text on video, also fall into this bucket. Save the file to Google Drive or your Desktop to open it in k3000; Win, Mac, or the Web App.
You can also use Image Reader. Open k3000 (Win or Mac) and click on the Image Reader button. Select the content you'd like to have read aloud and viola, it will open in k3000. The best part is that it will look exactly like the original content.
Classroom Handouts
Printed assignment distributed in class? No problem. Take a picture with your phone or iPad and save it in the online library. It's that simple.
Get a Guided Tour
---